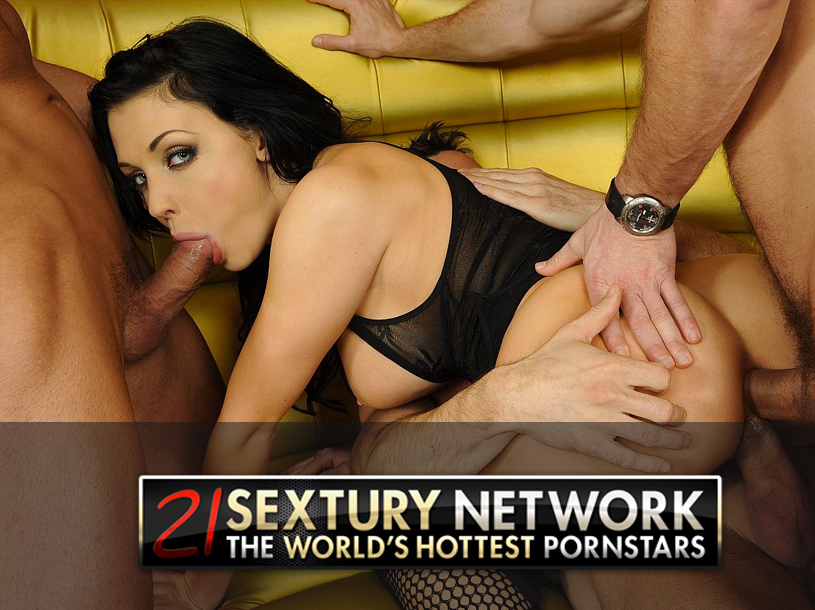 First of all, I love the name of this adult pay porn site, and that's all. 21Sextury sounds like it's straight out of Hollywood, but after reading tag lines like "watch hundreds of hardcore actions with the most beautiful babes", I'm pretty sure this is a European thang. This site doesn't fuck around as far as listing probably most, if not all, of the sex scenes they offer. It is made up of one, long web page with thumbnails of their top porn scenes right there. The top four are gifs, and the rest switch pics when the mouse is rolled over them, and that is the only action you are going to get here.
There is not very much information on this adult site at all. There are no names listed anywhere, no synopsis of the scenes, no announcements about the thousands of videos you might have at your disposal, not even any mention of download ability! Absolutely nothing. The imagery is good quality, but that is quite literally all you get and I don't know about you, but that is not enough to make me horny, let alone take my panties off and bang myself. Some of the titles do make me chuckle though. Let me show you!
There's Alice in Analland which I'm guessing is full of butt play. Looking at the thumbnail though, there won't be a lot of fun fantasy imagery.
Let's see, Double Milkshake looks as though a busty brunette will be getting the double penetration action and a cream pie facial to boot. Atta girl!
Clumsy Waitress sounds a little intriguing, as all of us in the server world have at one point or another lusted over a diner. But looking at the picture, it doesn't seem to involve restaurant service at all. I'm sorry, but I think fucking in a restaurant would be hot.
Queen of Assholes… hm. I think we can all figure that one out.
There are quite a few Anal Teen Angel *insert name here* videos. All young, and all with gaping holes, I'm starting to think that ass fucking is huge in Europe right now.
Hey Gang, Bang Me! is cleverly titled, but the pic of the soccer mom, fully-clothed mind you, arguing with what looks to be a male meter maid over where she parked her mini-van isn't doing it for me at all. At. All. Not even a little.
From what I could gather just looking at the little squares featuring some really large assholes, Europeans like butthole – a lot, some of these ladies are fucking rough looking, and I'm guessing that the 'acting' is going to be way over the top.
So yeah, that's about it. What do you get with membership? I don't know! They don't say. I'm not even going to bother talking about the cost of pay porn ste this site because if you sign up for it, you're going to regret it. Never buy anything if you don't know exactly what they're offering!
So no, no cock for you! Or pussy. Or asshole!