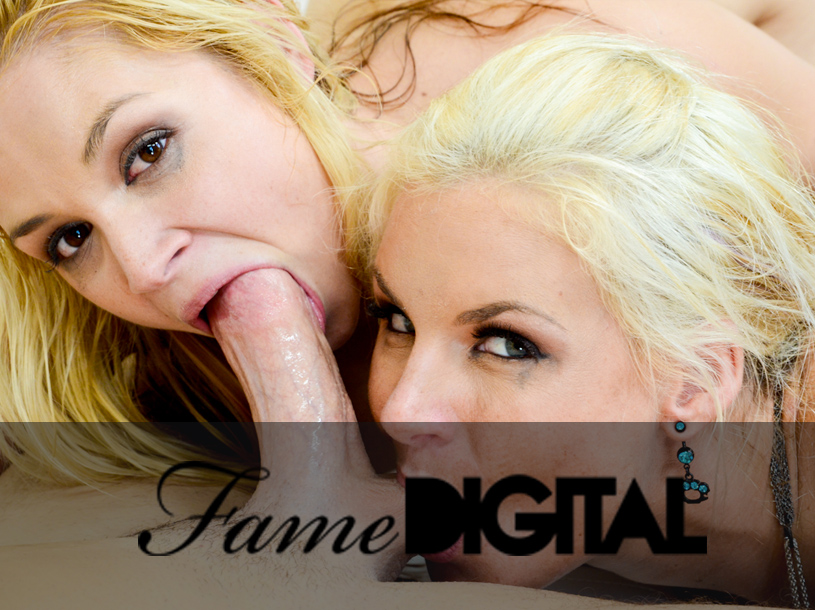 There is something very One Life to Live about adult site, FameDigital. Now, that doesn't mean I'm knocking it. On the contrary, I visually enjoy the lighter background and scrolled script. It makes me feel so fancy! This site has porn for days with almost 20,000 videos, a strong selection of 4,400 DVDs, and over 1 million images of your favorite pussy's getting pounded by a big dong. I also like this pay porn site because it gives fair coverage to the male actors as well as the women. Now, girl on girl is my preference, but that's a small niche in the greater scheme of pornos. You need to have a giant cock to make a porno complete, so, this is my shout out to all you hung mother fuckers. Cheers!
This adult pay site offers links to Scenes, DVDs, Studios, Pictures, and Models. The Home page is brimming with big boobies, butts, and bitches. It's easy to get started right off the bat, your dick sure to start rising like Lazarus, at the site of all the skin. FameDigital previews the most updated videos, some of their slutty scene selections, and a taste of the DVDs at your disposal. From there, it's up to you where you go to start the night of self-pleasure.
Not all of their videos are in HD, but almost all are. To get in the holiday spirit, head over to Kendo's Merry Christmas, a Christmas special showcasing the sexual bonding between Brandy Smile and Candy Sweet C. Donned in the familiar red and white, sexy black tights, and those fantastic fuck-me-heels, these ladies get into the giving spirit in a sexy scene involving shy glances and unadulterated passion. The lovely ladies make their way to a large, luxurious bed, where they pleasure each other with toys, tongues, and fingers. This entire scene is classy as fuck and left me ready for more.
Porn legend Peter North is highly featured on this adult porn site. In North Pole #87, he pairs up with blonde bombshell Nicole Aniston for a steamy locker room scene. Playing the professional sports journalist, Nicole finds herself seduced by the very well-hung Peter North, and can't help but bend over to give him her sweet pussy. Although North is getting up there in years, his performance leaves you satisfied.
Under their fantastic scene-selection you'll be able to find your fave fetish and sex style as well. There's a Vintage section that seems pretty promising. Find scenes featuring big hair, big bush, and big vagina. Remember those Garden of Eden-esque orgy scenes, with the soft glow? FameDigital has a great selection of this genre. If you get hard while watching more colorful ladies get fucked, there are videos featuring beautiful Indian women in colorful saris get their pretty pussies fucked, black chicks with their signature giant asses, and even Lady-Boys fulfilling fantasies! So sit back, spit on that hard cock, and go to town!
FameDigital has some of the biggest names of the industry starring in one fucking scene after another so that you will cum harder, and more often than ever. The membership pricing system is pretty much par for the course with 3-day, 1-month, 3-month, and 12-month options, the annual being the best, of course. This site is highly recommended by me and my wet panties.