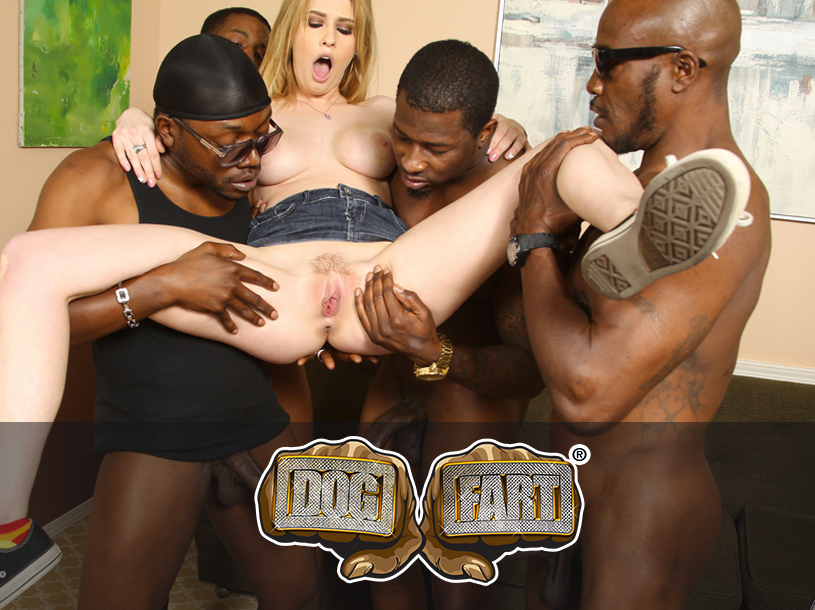 What the fuck kind of name is this?! I can't even type it out without feeling violated. *coughs*DogFart! Maybe it's a black thing because what DF is famous for, and has been since 1996 (they claim) the King of Interracial Porn. With 16 years of years of updates, we at least know they've been providing pocket pool for a long ass time! The site is self-explanatory as fuck, with immediate scene selections of big black cocks fucking a lot of white pussy. Is this your bag, is it?! Because you're not really going to find anything else, but that's ok! This is some quality shit, trust me. There are 22 adult pay porn sites to jack-off to. Over 4,000 scenes of guy-on-girl, or multiple guys on one girl! And don't forget all the pictures, and over 1,000 girls to choose from.
Glory holes are a favorite on this adult site, with over 500 scenes on this porn site alone. In fact, watch a preview (yay!) of blonde cutie-pie Katie England make her way through the shelves of an adult bookstore during her lunch hour to the special room in the back. Oh! What's this? Why, it's a huge, black dick! Watch her take that stranger's cock in her mouth and pussy until he jizzes all over her. Now that's what I call a lunch-break!
Switching the tables, it's all white on black on the CumBang porn site. A gang of white guys on one ebony beauty, that is! These guys might claim to be good ol' boys, but they can't resist the sweet taste of dark meat when it comes to September Reign, Nadia Jay, or Cherry Hillson, to name a few. These black bitches love nothing more than a white-boy train and a face full of their cum. Some of these incredibly talented women combine the anonymity of the glory hole with a parade of strange men coming in to get fucked.
Login into ZebraGirls, an all-girl, black and white, lesbian fuck-fest. Chelsie Rae and Erika Vuitton star in a fierce scene of "who's the boss now?". Erika, tired of cleaning up after her entitled rich-bitch boss, starts getting frisky, solo style, and gets caught wet-handed by Chelsie! Rather than get embarrassed, Erika takes charge and puts Chelsie to work for a change! Watch the sweet jungle-princess make the spoilt brat her bitch as Chelsie is fucked into submission. Erika bends her over and to give her the spanking she deserves, then teaches Chelsie exactly how to lick her pussy and make her shake. And don't forget the toys!
For a full array of hot, interracial fucking videos to make you cum like Old Faithful, their Top 50 offers a little bit of everything from each pay porn site. You can also search for your favorite actress because, let's be honest, this ain't your first rodeo and good chances are, you already know who you like to get hard with! And like any good pleasure-yourself site, DF lets you pick categorically. Ass to Mouth, Fetish, Braces (what?!), and Big Fucking Tits! are just to name a few.
Besides the name of this adult pay site, I enjoyed it immensely. Winners of multiple Adult Video News, DF offers great actors, fantastically hot fuck scenes, and well-shot videos. I say, "Rock on with your Hard self."