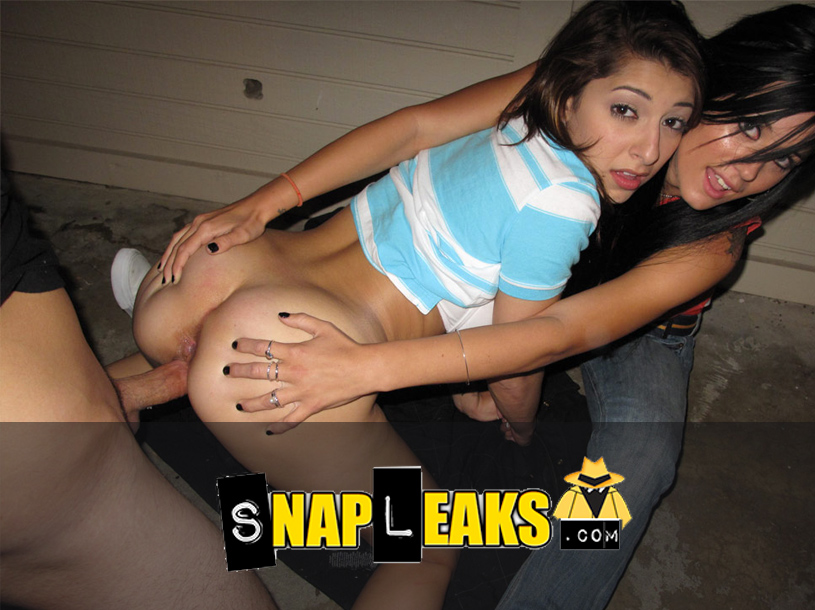 SnapLeaks is like the more adult, read: perverted, version of a well-known phone app called Snap-something that seems to be popular with the kids these days. It also seems to be about as confusing to navigate, but when there's hot, naked, pussy involved, I'll do my damndest to figure it out. The Home page is chock full of quick 'snaps' of young girls caught in the act of either fucking, fingering, or fondling. I really wish that some sites had an 'About Us' page so I could get a better grasp of what I'm on the lookout for, but I digress.
Voyeurism seems to be the name of the game here, and I'm not disappointed by that one bit. What starts as an incognito snapshot, typically in public, soon turns into a full-fledged fuck-fest, according to the stills available. Without a membership, no videos, no previews. But there's plenty here to keep your dick swole, so keep the lotion handy.
SnapLeaks offers access to 6 different adult pay sites, all specializing in Girlfriend Revenge, Dare Dorm, Black GFs, Crazy Asian GFs, Crazy College GFs, and Horny Birds at bachelorette parties. That all sounds lovely, and you get plenty of preview imagery to bring your blood to your head, whichever head that might be. Maybe I'm just naïve, but I don't really understand the GF Revenge. It looks like a lot of good ole porn to me, and that's just fine.
Dare Dorm has that fun, innocent "oops I accidentally got naked, licked my best friend's pussy, and ended up with 2 dicks in each hole" feeling.
I personally love the incredibly fit black cheerleaders, getting down and fucking dirty in the locker rooms. I don't remember that ever happening when I was in high school, I mean, college.
Tiny, flexible, adorable, and the tightest of all holes, the Crazy Asians just might become your favorite. They always enjoy getting railed by large cock and taking a cum shot to the face. Many of them are also dressed like school girls, yes please!
If you are one that enjoys the excitement of fucking or masturbating in public, then open up a video or two in Crazy College. Whether you get to see some punany in the classroom, or witness a magnificent blowjob in the campus coffeehouse, these nutty kids are doing it right to make you cum.
Lastly, Horny Birds. It's so out of place here, but equally enjoyable. Have you ever heard the stories of the nut-busting that happens at bachelorette parties when the hot, young stripper-man arrives? All of sudden it's a fight for who can suck him the best, and oh my, is that a dick in my cunt?! Shit! How'd that get there! Oopsie! Good, good times, indeed.
Not everything is HD, but there's a link directly to those pay porn sites so you can get them up there on the big screen and go to town – on yourself. Each link also provides something that's unique, gifs! A bit of repetitive banging, blowing, and boobies never hurt a soul, right?
Membership is standard as most others in the smut world with 2-day for $1; 1 month at $29.95; and their best offer, 12 months for $7.50. Keep in mind the 2-day option converts to $39.95 a month until canceled. The videos are downloadable, so I'd say this is a site that could be worth it in the long run. Go ahead my friends, jack away!