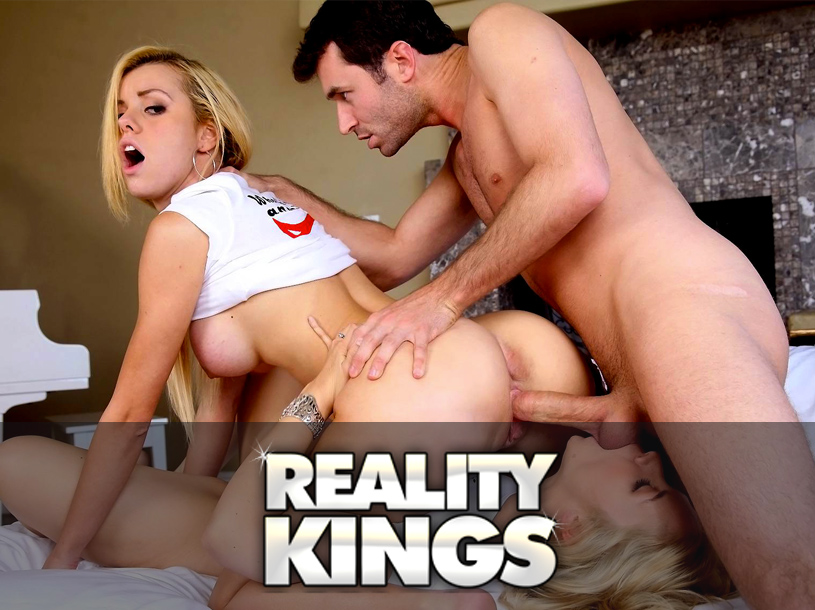 When it's time to get freaky with yourself, whether you have a cock or a pussy, let the Reality Kings at RK help get the job done. This website is full of more than 40 adult pay porn sites shot in crystal clear HD to play out every fantasy imaginable, as well as thousands of videos of your favorite actresses getting off in every way possible. Why tune into the Reality Kings when it's time to get yourself off? For one thing, the rates on this site are affordable for anyone, and they offer multiple payment tiers depending on what you need. Regardless if you sign up for the 2-day, 1-month, 3-month, or even full year option, RK has the best plan for everyone.
As soon as you get past the 18+ consent page, you're greeted by high resolution imagery of juicy asses, tight pussies, and stunning actresses deep in the business. This adult porn site is clean without a lot of flash, which I personally like. It's very easy to navigate to whatever you're wanting to find first. You can click through Scenes, Girls, and Sites to find what gets your dick the hardest, and your pussy the wettest.
The first option is "Our Scenes". Here you can find your preferred genre of spanking material, and RK does not disappoint. The page is incredibly easy to navigate and visibly labeled so you can quickly find the fantasy you need to get your rocks off. There are scenes dedicated to fucking the hot MILF next door. Into teens getting face fucked by a huge dick? This is where you'll find it. Or are you like me and enjoy some very hot and heavy girl-on-girl-on-girl action? Step right this way. You can even follow Bella Honey around as she gives some lucky guy on the street one of her infamous blow jobs. She might even gag a little, and if that's your thing, RK is sure to have it in their scene selection. No shit, there's even a scene that involves scuba diving!
Next up you'll find the "Our Girls" section which features literally thousands of hot ladies fucking away, again, in HD, so that's super-hot. You can organize the page to search for "Our Favorites", "Most Popular", and "Alphabetically" to find your dream girl. When you click on the image of the sexy wench you're ready to wank it to, you get a brief rundown of what she has to offer, such as one-on-one, blow jobs, shaved, and squirting, just to name a few. This is also where you'll find their videos. Some ladies have quite the library, while others are just getting started. Watch videos of Remy La Croix's sweet, round ass getting pounded, and loving every minute of it. Petite Dillon Harper will rock your world as she ass-licks other cute chicks. By the way, she has that always favorite girl-next-door look going on. Hot. One of my personal favorites is Christy Mack. She has an ass that won't quit and some beautiful ink. I'm a sucker for both.
Lastly, you'll find what I believe RK specializes in, "The Sites". Here you'll have access to the top 40 pay porn sites that keep you cumming again and again. For example, you'll have access to Cum Fiesta, where hot young ladies are sucking the cock to get blasted in the face and hopefully their tits too. If you're looking for some flavor, there's always the Round n' Brown site, which I think is pretty self-explanatory, and 8th St. Latinas featuring some hard core, gang banging ladies. There are also some amateur sites for those that appreciate a more natural approach to love making. I mean, fucking.
It's hard to expect RK to do any better than all of this, but they also rock the mobile porn watching if you have Apple products. If you're unsure of the age of any of their stars, they offer a link to prove age of consent, which is dynamite in my book. When you find your way all the way to the bottom of the Home page, there's a link for motivational posters that are sexy and fun. Do you think you have what it takes to go to pound town with these ladies? Great! There's a link called "Stud Search" just for you! Well, just for you with a 10" cock. And lastly, did you know they have a Snapchat account too?! There is absolutely no reason to NOT have Reality Kings be your go-to for masturbation. They really are the kings.