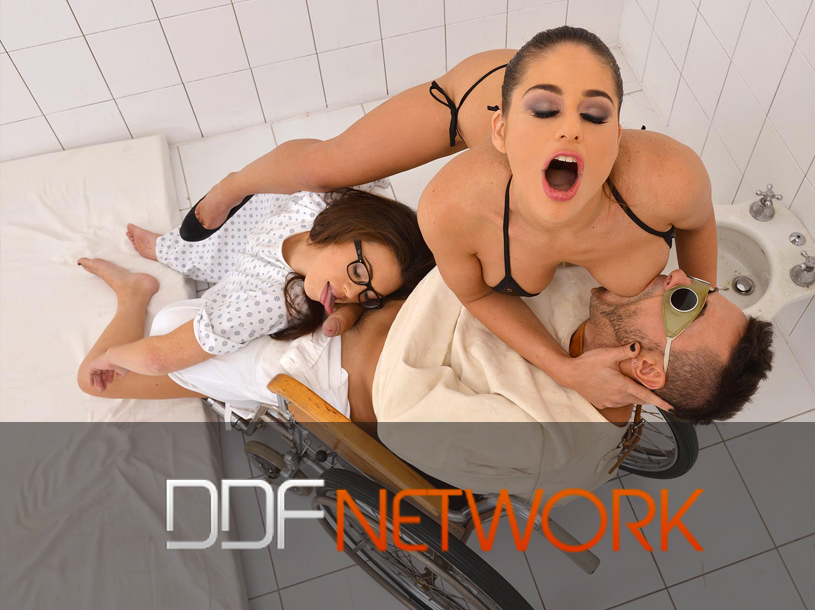 Kinky, kinky, kinky is how I'd describe DDF's site from the get go. Specializing in beautiful European adult actresses, they offer over 13,000 videos of premium porn. Big tits and tight pussies await you on their front page. There's immediate access to the latest videos, categories, the top-rated and talented sluts, fresh meat, and videos soon to come. The layout is easy to see and clear to navigate, so you can start pulling your dick out as soon as you enter. This adult pay porn site specializes in some fucked up kinky shit, so that's what I'm going to focus on here because it's hard to find exactly what you're looking for if your sexual interests are way out there.
When you go the Update tab, there is an archive of fucking that goes back almost 15 years ago. Were you even old enough to look at porn back then?? You can then 'choose your fantasy' and there are hundreds to choose from. Restroom Humiliation is a new one for me, but I'm sure one of you dirty dicks love to watch a dirty girl get thrust with a toilet brush. In fact, DDF's House of Taboo has more unique fetish videos than you can shake your cock at. Featuring the beautifully submissive Meg Magic, Suspended and Helpless also stars Amarna Miller, a sexy red-head who enjoys binding the black-haired beauty. Watch these two kinky bitches get fucked by darkly handsome Sabby and their Master, Zor.
A Balanced Diet is a hot lesbian video starring the sultry Dominica Phoenix and Kristy Black. This girl-on-girl vid also features tasty pasta and toes fucking holes. The scene sounds strange but there's something about fucking on the dining table and getting messy with dinner that makes me hot. Foot fetish abounds as well as Kristy and Dominica eat spaghetti off each other's lovely feet. They love it so much they use their dainty toes to penetrate each other in both holes.
One of my personal favorites that DDF offers is Latex Lucy. Yummy, yummy. This is a woman who loves to fuck all day, every day, in every way. Covered from head to toe in colorful latex, become Lucy's personal slave as she allows you to admire her huge, perfectly round tatas, shaved mound, and piercing green eyes. You won't want to cum until she tells you that you can. Naked and Invaded is a fantastic Latex Lucy video where fellow Dom Samantha Bentley and sexy Submissive Monica Hase get to play too. Lucy, in red, and Samantha, in gold, get off by spanking Monica's voluptuous ass with a riding crop, then fisting her tight asshole. The pain and pleasure combo is mind reeling.
This pay porn site has so much more to offer as well. You can live chat with amateurs. There are live web-cam girls, ready to do anything to get your cock rock solid. DDF offers something that no other does with its Sex Adventure beta site where you get to pick and choose what depraved sexual acts your favorite porn star does next. If you don't cum more than once from this site, I'll eat my hat.
Membership to this all-encompassing site is kind of steep, but worth it. There's of course the 2-day trial for $1 which rebills at $44.99 a month, which is the 1-month cost anyways. Next you can sign up for 6 months for $16.99 a month. The year-long is $16.99 as well. Spending almost $200 a year on porn is a bit much, but I think it's worth it for access to all that DDF has to offer. I give it two very hard cocks up.